Christmas Quilts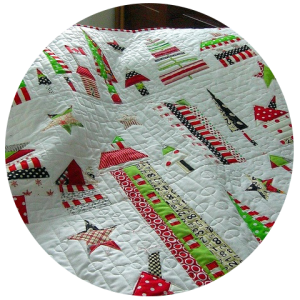 Everyone loves the time of year where everything starts to transform into green and red. Christmas is always one of the most joyous occasions in any family and there is nothing more wonderful than a truly beautiful Christmas quilt.
Red, green and white have been very popular colors throughout quilting history as they look fantastic and give a very welcoming and homely appeal. With the right pattern you can't go wrong with these colors.
Uses for Christmas quilts
There are a number of different approaches to Christmas quilts. Some people bring them out only during the holiday period and then carefully wrap and store their quilt for the rest of the year.
Others choose to use their Christmas quilts during the festive season and will then leave the quilt out for the rest of the year and perhaps drape it over a chair or hang it on a quilt rack for their friends and family to admire.
Making a Christmas quilt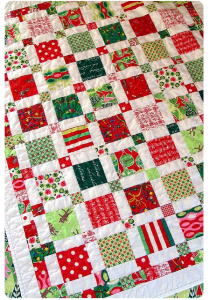 If you are looking for a very traditional quilt then stick to mainly red and green fabrics. It is always a good idea to either use a plain white background (for appliqué) or to incorporate some white or a very lightly colored material (perhaps gold!) into the patchwork as it will accentuate the beautiful Christmas colors and prevent them from becoming to cluttered and perhaps being difficult to focus on.
If you are stuck as to where to "lighten up" your quilt then look to places like the sashing, binding and corners of each patchwork square. This way you will be able to control exactly how much white is presented on your Christmas Quilt. Remember to always take a step back and have a look before you continue with each stage.
When choosing a design for a Christmas quilt keep in mind whether you want the quilt to have lots of "Christmas" type motifs, for example; Santa, reindeer, Christmas trees, holly and presents or whether you are just after something festive that could also be used throughout the year.
In this second instance you could consider using Christmas colors but not necessarily Christmas motifs, for example; holly, flowers, leaves, vines and balls. Gold and Silver based fabrics can also be introduced to tone down the Christmas concept, yet keep the festive theme of the quilt.
Non-traditional Christmas quilts
Many people are now opting to make Christmas quilts in the non-traditional style, where other colors are being introduced and where red and green fabrics become part of the whole image rather than the focus. This is a fantastic way to create a very special and unique quilt that can be kept for generations and not necessarily used only in December.
Check out out the Christmas Quilt Patterns page for more information and inspiration on Christmas quilts!