Marking and Cutting Your Fabric
Marking the fabric is an extremely important step as if you make any mistakes it can really effect the overall image of the quilt! Likewise it is equally as important to make sure you are using the right type of fabric marker. Make sure to refer to the fabric marker section before you start to see which type is best for your chosen fabric.
Test your fabric marker
Whenever you are planning on marking out a lot of your design on your fabric(s), it is always recommended to do a test run with your fabric marker first. Simply take a small scrap (a corner or torn piece) of fabric and place a mark in the middle, try to make the mark as similar to the size and length of the ones you will be using to mark out your template.
In other words if you are dotting your template, then only place dots on your sample, likewise with uninterrupted lines. Be careful not to test using dots and the actually mark with lines as it may not have the same effect.
Cutting the fabric for your quilt
When cutting your fabric, please consider the following diagram (as basic as it is, people still make the same mistakes!).
Be careful to make sure you cut out the E squares horizontally on the material, however although G squares are the same shape they will have to go vertically on the material, even if you change your fabric make sure you don't end up with up-side-down motifs, eg. flowers or cars.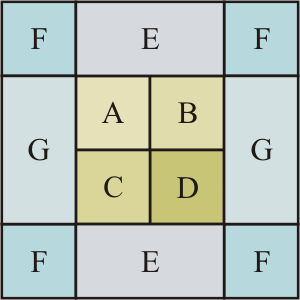 When marking out the shapes on your material consider using the following concept to make sure the shapes will always be the "right way up" on your quilt.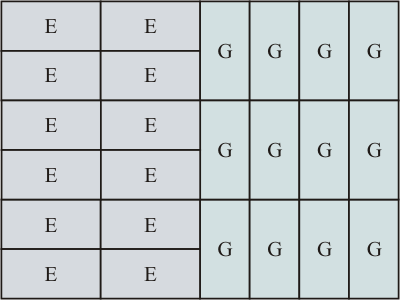 When choosing a sample piece of each fabric, please do not use a soiled or discolored piece as the fabric may have come into contact with other chemicals and reacted.
If this is the case then the result after washing the fabric may not be an accurate reflection of the composition of the section of fabric you will be using, nor will it accurately show whether the fabric marker washes off or not.
Remember to always use very sharp scissors when cutting the material around the template after you have pinned it to your fabric. It is very important that your quilting scissors are kept very sharp as if they become blunt then cutting will be a little more difficult and could tear or roughen the edge of the fabric shape