Cathedral Quilt Patterns
The cathedral window quilt pattern is a design that is super simple and can be creatively altered by even the most novice quilter. It basically consists of a lot of arcs, circles, diamonds and depending on which pattern you are looking at, some squares. The intention for a cathedral window quilt is for it to be very light and recreate the feeling of a typical cathedral window.
See the cathedral window quilts section for more information on this unique quilting style.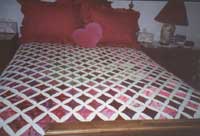 A great example of a cathedral window quilt has been made by Jo Ann Ely Sewing Fool (shown here). She captures the real essence of a cathedral window quilt perfectly and her quilt is a great example of how even a simple quilt pattern can have a stunning effect.
If you are all unsure about how to go about making a cathedral window quilt then a pattern will always always help you through.
Craftsy has some great ideas and beautiful pictures to inspire you.
Go to Fave Quilts to see 12 different design options.
If you still need a little help. Have a look at this tutorial called Cathedral Windows Just for Joan by Kris. It gives you a good introduction as to how Cathedral quilts are pieced together